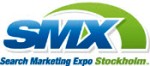 Search engine marketing conference SMX returns to Stockholm on October 12-13; Early Bird rates available until September 11. 
September 2, 2009 – After last years success with more than 250 attendees, the leading search engine marketing conference, SMX, returns to Stockholm for the third time. The conference and exhibition will take place on October 12-13 in the City Conference Center (Folkets Hus) in Stockholm. SMX Stockholm will feature two information-and-discussion packed days, with over 20 sessions of cutting-edge content on search engine optimization (SEO), paid search advertising (PPC), social media marketing and search-friendly design and development. 
On October 11 the "Search for Marketers Day" is focusing on the key benefits and issues interactive marketers need to understand and pay attention to when integrating search into the overall marketing strategy.  The program also features SMX Boot Camp, with sessions designed to get beginners up to speed on search marketing fundamentals. 
Day 2, October 12, gets into cutting edge techniques for search professionals with two tracks " SEO-Camp" and "Advanced SMX".
SMX Topics include:
–   SEO and Paid Search – How to Combine the Two Techniques
–   Duplicate Content & The Canonical Tag
–   Landing Page Testing & Optimization
–   How not to become a Spammer!
–   TOP 5 Action Points When Setting up a Successful Search-Marketing Program
–   Search Engine Friendly Design
–   Beyond the Usual Link Building
–   Case Studies: Velux,  SAS, SEB, Island Bank Crisis and more
The faculty for SMX Stockholm includes Scandinavian search experts and internationally known internet marketing personalities. Speakers include:
Sara Andersson, Founder, Search Integration
Simon Sundén, Co-Founder, Iconvert
Annelie Gullström, Head of Digital Media Strategy, SEB
Mikkel deMib Svendsen, Creative Director, deMib.com
Magnus Höij, Editor in Chief, Internet World
Shari Thurow, Founder & SEO Director, Omni Marketing Interactive
Kristján Már Hauksson, Director of Internet Marketing, Nordic eMarketing
Martin Källström, CEO, Twingly
Christian Sundgren, CEO, Relevant Traffic
Marcus Anzengruber, Owner, constant AB
Nikke Lindquist, SEO Specialist
John Mueller, Webmaster Trends Analyst, Google
Nicolai Westrup Gleie, Manager Online Marketing, SAS e-Commerce