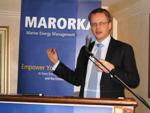 Marorka is one of the world's leading companies working to lower the global impact of shipping on the environment while saving the industry money with better efficiency. Marorka is one of several innovative Icelandic companies taking part in the Nordic Climate Solutions 2009 conference in Copenhagen this September.
 Marorka is an Iceland-based technology company with strong representation elsewhere in Europe and Canada. The company creates cutting edge energy management systems  for the international shipping industry to help save money by using less fuel and emitting less harmful greenhouse gases.Marorka relies on its team of highly skilled personnel to keep developing the latest ideas to help shipping companies meet their ever-harsher economic and environmental obligations.
 Marorka has decided to take part in the Nordic Climate Solutions conference 2009 next week in Copenhagen, because the conference is Northern Europe's largest forum of experts in both transport and energy, from both sides of the 'fence'. This means that the event is given legitimacy from its official Nordic Council of Ministers backing and from the participation of scientists; but is also a huge event for business leaders.
Although the energy and the transport sectors are always very closely linked, there can be very few companies with one foot so firmly planted in each camp as Marorka. Energy efficiency in transport is what the company does – and if it continues winning awards for doing it right, all potential stakeholders benefit.
For more information on the vital and pioneering energy efficiency work going on at Marorka, visit www.marorka.is