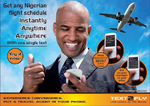 New mobile service Text2Fly launches up-to-date Nigerian domestic flight schedules via SMS to combat the issues facing the Nigerian business traveller, such as slow Internet connections.
SMS is a counter-intuitive medium for an application that would normally require lists of cities and other prompts to guide the user. But Text2Fly makes it easy by letting users enter an SMS command that appears to be an English language sentence for example, "From Lagos to Abuja on Friday at 6pm". Behind the scenes Text2Fly handles numerous permutations of that basic format. 


"We knew Text2Fly would be useful, but what has been surprising is just how excited people are when they try it for the first time," explains Timi Agama, the Founder and CEO of Text2Fly.
The Text2Fly approach to delivering an application by SMS is patented and brand new. In theory it can be applied to searching for train times or bus schedules in busy Western European economies.
Text2Fly has one simple aim – to make air travel in Nigeria much less of a hassle.
Text2Fly is a product of Anthill Digital Limited, a Nigerian provider of innovative web-based solutions.
For further information regarding Text2Fly, and to receive Nigerian domestic flight schedules via SMS, visit text2fly.com.ng.