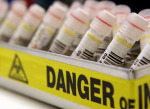 Top leaders and key decision-makers of major companies representing a broad range of industries will meet with distinguished scientists, public health offi cials, law enforcers, fi rst responders, and other experts to discuss pandemic prevention, preparedness, response and recovery at the 1st International Swine Flu Summit.
International Swine Flu Summit
At the summit, attendees will be able to draw on fi rst-hand best practices to create the solid business continuity plans that their companies and organizations need in order to prepare for, respond to, and survive a pandemic.
The summit draws on the success of the seven previous Bird Flu summits which featured as speakers several distinguished personalities such as Dr. David Nabarro, the United Nations Coordinator for Avian and Human Infl uenza, Alex Thiermann of the World Organization for Animal Health (OIE) and Dr. Wenqing Zhang of the WHO Epidemic and Pandemic Alert and Response.
Well-known emergency responders, heads of hospitals from around the world, and hog/swine industry leaders will speak in this summit.
For more Information call: (001) 202.536.5000 or email: Lwilson@nfemail.com
Website: www.New-Fields.com/ISFC