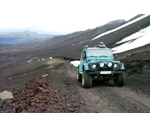 High North's tours will take you to destinations such as the beautiful South Coast of Iceland. Along the South Coast you will be able to see the true beauty of Iceland such as amazing and breathtaking waterfalls as well as glaciers.
You can also take shorter tours such as their Reykjanes Peninsula tour bringing you around the lava fields and hot springs as well as making a stop in the Blue Lagoon. There are many other tours that High North has to offer including Super Jeep off road tours.
These are only a few of the amazing tours that High North has to offer. You also have the choice of customizing your tours. Most tours are provided by super jeeps and tend to wonder off road. Only the sky is the limit when it comes to touring with High North. High North is a recognized tour operator by the Icelandic Tourist Board and provides professional tour guides allowing your Icelandic vacation to be exciting and unforgettable.
Your holidays and vacations to the remarkable destination of Iceland can be complete and enjoyed to the maximum with the help of High North, a tourism company and tour operator in Iceland based in  Reykjavik, the capital city of Iceland. High North provides all kinds of journeys and experiences for you during your travels in Iceland.
You can contact High North for more information, and even request a customized tour today with them! Welcome to Iceland!
High North
Fífulind 13
201 Kópavogur
Tel +354 867 5059
info@highnorth.is
www.highnorth.is