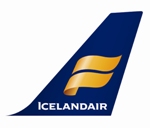 Icelandair ranked highly in the new Association of European Airlines (AEA) consumer report. According to the report, Iceland's oldest and largest airline was the only European airline not to cancel a single flight between November 2008 and this March.
Icelandair was found to be the second most punctual European airline on long haul routes and the third most punctual on short and medium haul routes – an important statistic for an airline that serves so many of its passengers with short stopovers at its hub airport as they fly between Europe and North America.
Icelandair was also ranked the sixth best airline in Europe when it comes to the reliability of reuniting passengers with their luggage at the end of their flights. Once again, as so many Icelandair customers take two scheduled flights with the company at any time instead of just one – this is indeed a statistic the airline can be proud of.
Icelandair is the airline connecting 18 of Europe's major cities with seven top destinations in the USA and Canada through Iceland's main hub, Keflavik International Airport.
All Icelandair planes were recently updated with new, more comfortable seats and individual seat-back entertainment systems for every passenger. Despite the improved quality, Icelandair still regularly comes top on searches for cheap flights to New York and all its other destinations.
Flights to Europe with Icelandair are of a similar distance to normal and don't take much longer, despite the pleasant stop. The company even allows you to spend a few days in Iceland with no extra airfare if you choose.
For the purposes of the AEA survey, flights are considered to be on time if they take to the skies within 15 minutes of their scheduled time.
More details on Icelandair are available at www.icelandair.com