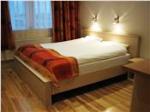 Hotel Hafnarfjordur offers the comfort of a hotel with the convenience of holiday apartments in the Reykjavik capital region of Iceland. And now with an incredible summer special offer, staying at Hotel Hafnarfjordur has never been more tempting.
The stylish and newly refurbished Hotel Hafnarfjordur announced today its huge Iceland Discount Hotel Sale, with single studio apartments from ISK 10,900, double studios from ISK 12,900 and triples from ISK 17,900 (all subject to availability of course).
Hotel Hafnarfjordur is ideally located in the charming town of Hafnarfjordur, a relaxing alternative to Reykjavik, but still only 15 minutes' drive away. Hafnarfjordur is the Capital Region's closest point to Keflavik International Airport – the major gateway for most arrivals to Iceland.
Hotel Hafnarfjordur apartment hotel in Iceland is an ideal option for people looking to enjoy the freedom of staying in holiday apartments, but who also want to have the convenience of hotel service. Hotel Hafnarfjordur offers unique and personal service to make guests feel comfortable, all in the name of giving them "a home away from home".
Old Hafnarfjordur Town emanates from the central quayside in a jumble of old streets and well-maintained bright painted timber houses. The intimate harbour is always busy with boats and the town centre boasts a pleasant stream full of ducks and small fish, an eclectic mix of shops and boutiques, as well as many excellent options for eating and drinking.
Hotel Hafnarfjordur makes an ideal base for fly-drive holidays to Iceland, with its excellent road access, free parking and array of things to do from horse riding to golf, and from elf-spotting to mountain climbing.
Further details of summer special offers, as well as all aspects of Hotel Hafnarfjordur's service and a gallery of photographs can be found on the hotel website at www.hhotel.is