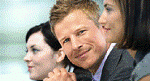 Social media has been rated as the third highest lead generation tool for businesses online! Well-known social media utility Facebook is thronged by 120 million users and a single Twitter profile is valued for up to a billion pounds.
Knexus Digital has launched a 'Social Media' programme of content to help marketers deliver measurable benefits by optimizing their use of social media tools like Facebook and Twitter! This content will deliver the latest insights and market intelligence on the importance of building a consistent social media strategy for brands.
The programme is created in conjunction with 'Social Media' experts Mark Rogers (Market Sentinel), Linda Zimmer (Marcom Interactive) and Chris Quigley (Rubber Republic) who will deliver insights on Demand via video and downloadable podcasts.
To access compelling learning, market insights and ideas on 'Social Media' from Knexus Digital email brook.minto@knexusgroup.com.
Alternatively, if you'd like to know how Knexus Digital helps companies to maximise marketing team performance for a digital marketing success, you can request an online demo or contact +44 (0) 845 838 5316.
About Knexus Digital
Knexus Digital provides innovative online tools and market leading insights to maximise marketing team's execution capabilities for digital marketing success.
In essence, Knexus Digital helps marketing teams acquire new skills and insights to adapt to a fast-changing marketplace. In the face of global competition and shrinking marketing budgets, we provide digital marketing solutions in quick, easy and cost-effective ways.
Knexus Media Inquiries
Sherlyn Lee
Marketing Manager, Knexus Ltd
t. +44 (0) 845 838 5316
e.sherlyn.lee@knexusgroup.com