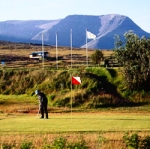 Golf holidays to Iceland are constantly gaining popularity because of the sheer number of great golf courses, the country's unrivalled natural beauty and, surprisingly, the midnight sun.
If you've never teed off at midnight, then Iceland in summer is the place for you. Many of Iceland's more than 50 golf courses offer the unique experience of night time golfing – including some unique midnight golf championships.
First comes the Midnight Sun Open 2009 later this month in Fludir. The small village of Fludir is a peaceful inland getaway near to Iceland's famous Geysir hot springs and Gullfoss waterfall. Expect a relaxed atmosphere and lots of fresh air to prevail at the tournament.
After Fludir comes the biggest event on Iceland's golfing calendar: the Arctic Open. From 25-27 June the Arctic Open will take over the beautiful town of Akureyri, northern Iceland.
According to event organisers, the best advertising for golfing vacations to Iceland at this time of year is that the Arctic Open just keeps getting bigger and bigger every year. As many as 120 foreign golfers make the trip from all over the world to compete in the northern midnight sun along with a myriad of Icelandic competitors.
Akureyri's Arctic Open has something of a carnival atmosphere; but the fun should not disguise the fact that the competition at the head of the field is fierce and the golf of a high standard.
Playing golf at midnight is weird and impressive enough; but add the fact that Akureyri is the world's northernmost full golf course and the event starts to look to unique to pass up.
If all this seems a little too short notice, then there is also the Volcano Open on South Iceland's Westman Islands early next month. The spectacular island scenery and the challenging golf course make up for the fact that the Volcano Open takes place in the daytime. But even so, many of Iceland's golf courses are open for late night golfing all summer – but it is important to book first.
Further golf Iceland details can be found at www.visiticeland.com