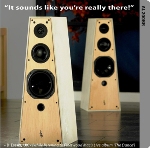 'New' CONCRETE Hi-Fi Loudspeaker System
www.concretespeakers.co.uk
New Updated Website
Experience music how it was intended to sound!
Since launching these sensational speakers 3 weeks ago many interested parties have requested high quality photographs. Due to the demand we have now commissioned a range of high quality professional pictures which are now featured on our website www.concretespeakers.co.uk
It's amazing how contemporary and stylish concrete speakers can look!
These newly designed speakers have been lovingly hand-built for the true hi-fi connoisseur!
The purpose of a Hi-Fi loudspeaker system is to present the sound from the individual drive units with optimum performance. This can only be achieved if there is sufficient stiffness in the cabinet to cut out any coloration (distortion in sound). The conventional solution has been to use wood-based composite or more recently, the introduction of plastic (polymer) composites. Many designs look good but do not deliver high quality sound.
My speaker cabinet is "inert". Its distortion level is almost zero even at high volumes. Therefore,
you only hear the recorded sound in your room.
So why concrete?
• Concrete has a very high mass / density which contributes to its high damping qualities;
• It is much stiffer than conventional loudspeaker construction materials;
• Its density stabilises the speaker system allowing the drive units to function at their maximum specification;
• It is moulded using an homogenous construction design ensuring a thoroughly rigid cabinet – (conventional construction methods have an inherent weakness in the joints);
• The strength of concrete increases over time, giving you a product that improves with age;
• My latest designs have a white 'marble-like' finish.
Gavin Alexander on his inspiration behind Concrete Speakers
"My first experience of concrete as a loudspeaker material was in the late sixties when a relative used a large diameter soil pipe to house a base driver unit – I was hooked!"
After studying material technology at London University, I built my first set of concrete speaker cabinets using KEF drive units. I was impressed with the purity and depth of sound. I then furthered my knowledge and understanding of concrete as a material at the Cement and Concrete Association in Slough.
In 1982, I built the concrete speakers I use to this day. Though many of my other hi-fi components have been upgraded, my speakers remain constant and the source of many hours of listening pleasure.
My latest design has been evolving for 3 years. I have carefully matched individual drive and crossover units will be used to compliment the qualities of the cabinet material. Ingredients for the concrete mix have been carefully chosen to enhance the visual as well sound quality.
"The finished product has the appearance of white marble".
These exclusive speakers will be made to order. For further information please visit www.concretespeakers.co.uk
If you would like to speak to Gavin, please call him on 01484 300945 or 07901 938250
gav.alexander@ntlworld.com