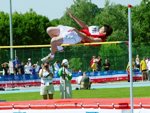 Glasgow-based Marketing and Events agency, GMFCo, are managing the sponsorship for the International Children's Games (ICG) which are coming to Lanarkshire in 2011. The International Children's Games are the largest youth games in the world and will attract more than 1,500 competitors from 70 countries worldwide. The games will be a major celebration of youth and potential, with young athletes taking centre stage as they pursue their sporting dreams.
Many youngsters competing at The International Children's Games will use the event as a springboard for entering the next Olympic Games and many are hoping that the ICG will help discover some of the country's best youth talent. Former Olympic and Scottish long-distance track star, Liz McColgan, commented:
"An event like this gets youngsters involved and engaged about sport on many levels… We need to nurture potential at every level; ensuring no-one loses out."
Young Scottish athletes have got a fantastic past record in The International Children's Games as they won a host of medals while competing in Reykjavik in 2007 and in San Francisco last year. It is hoped the talented youngsters can build on their sporting achievements at the ICG in Athens later this year in preparation for competing on their home turf from 3 – 7 August, 2011. The categories are still to be confirmed but it is likely that there will be about seven games including track and field, swimming, football, sailing, badminton and golf.
Gordon Ritchie, Director of GMFCo, commented:
"GMFCo have a passion for sport and we have a wealth of experience in sponsorship and sponsorship marketing for many national and international sporting events and brands. In this economic climate, sponsorship can give brands a real return and good sponsorship will deliver."
ENDS
Media Contacts:
Rachel Cavers – GMFCo – T: 0141 248 6151
M: 07891 856 523 / E: r.cavers@gmfco.co.uk
Notes to Editors:
For more information on The 2011 Lanarkshire Interanational Children's Games please visit:
www.icg-lanarkshire2011.com