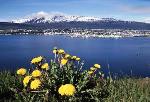 Iceland in summertime offers endless daylight and a virtually limitless supply of things to do. People feel energised and spend as much time outdoors as they can. As a consequence, the majority of Iceland's many events and festivals take place at this time of year.
Next on the list is Independence Day on 17 June, marking 65 years since Iceland gained full independence from Denmark. The day will be marked with concerts, street parties, acrobats and any number of other fun spectacles for every member of the family.
However, if you're not already in Iceland it may be a bit short notice to arrive before Wednesday. There's no need to panic though: there's plenty else on offer all summer long.
One such event is the massive Akureyri Arts Festival from the end of June to the end of August every year.
The picturesque northern town of Akureyri is Iceland's second biggest urban area and a very surprising place to visit. The world's northernmost botanical garden is just one beautiful aspect that sets the town apart. The tree lined avenues and strong year-round artistic vibe are another.
Akureyri is an excellent base for those wanting a different style of holiday in Iceland. As well as being an attractive town, Akureyri is also within easy reach of some real natural treasures.
Lake Myvatn leaves all first time visitors mesmerised with its stark contrasts of volcanic rock and extreme geothermal activity set against the lush, colourful vegetation and prolific bird and animal life. Myvatn is half way between Akureyri and Husavik – whale watching capital of Europe.
What's more, northern and eastern Iceland generally enjoy the warmest and driest summers anywhere in the country – not to mention the midnight sun.
Meanwhile back in town, Akureyri offers those on vacation in Iceland an endless stream of artistic and musical activities and exhibitions throughout the entire summer, culminating in the Akureyri Town Festival on 28 and 29 August. The festival celebrates the town's birthday and the varied programme of events barely pauses for breath the entire weekend.
For further Iceland travel information, visit www.visiticeland.com