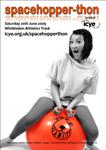 Wimbledon Athletics Track will play host to the bounciest event of the summer when a charity event looks to bring-back the classic 1980's toy for a Spacehopper-thon. International volunteering charity ICYE Volunteering Abroad is inviting participants to an off-the-wall, fun-filled day of spacehopper themed events to raise money and awareness for the projects supported by their volunteers.
Spacehopper fans will be flocking to Wimbledon on Saturday 20th June, with the fun starting at 14:00. The day will combine team and individual games such as spacehopper slalom and a triple bounce, cumulating with a sponsored endurance hop – how long can you bounce for? All those who take part in this big-fun event will receive their very own spacehopper after registering on the charity's fundraising website.
Event organiser and ICYE Long-term Sending Coordinator Jenny Williams said, "The Spacehopper-thon is a unique event combining bouncy spacehopper fun with a serious message. ICYE volunteers support some of the most vulnerable communities both overseas and here in the UK and we hope to be able to raise awareness of the amazing work of our volunteers whilst having fun at the same time."
All proceeds from the day's event will be donated to ICYE Volunteering Abroad to promote youth development, greater intercultural awareness and peace through the provision of supported voluntary placements and youth exchanges in a range of social, educational and environmental projects across the world. As a member of the International ICYE Federation, with over sixty years experience of volunteering, ICYE volunteers work at a variety of projects from supporting disabled people here in the UK to volunteering with street children in Bolivia and promoting HIV/AIDS awareness in Uganda.
The perfect summer event to share with a group of friends, all participants of the Spacehopper-thon must pre-register for the event at www.justgiving.com/spacehopperthon. A £10 donation is required and participants will receive a fundraising pack and a free spacehopper. For more information please call Jenny on 0207 681 0983 or email international@icye.org.uk.
– End –
Notes for the editor
ICYE UK promotes wider life experiences, personal development and greater intercultural awareness through the provision of supported voluntary placements in a range of social, educational and environmental projects that directly benefit local communities in Europe, Latin America, Asia and Africa.
Operating within an international network of locally managed ICYE organizations, ICYE UK encourages inter cultural understanding and cooperation through the exchange of people and ideas.
The Spacehopperthon will take place on Saturday 20th June at Wimbledon Athletics Track, Home Park Road
LONDON, SW19 7HX.
Press and photographers are welcome to on the day – please pre-arrange in advance by contacting Jenny Williams on 0207 681 0983.
For more information about ICYE please call 0207 681 0983 or visit www.icye.org.uk
Photo
L-R: