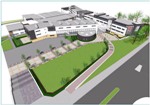 Leading IP CCTV specialist Controlware with partners ntl:Telewest Business, has supplied an advanced security solution to The Oldham College that saves costs and delivers improved flexibility and video quality over their previous system.
The Oldham College is in the process of producing strategy that will see 70% of the college's building portfolio being re-built with plans for a £70 million regeneration of their campus. The IT and Estates teams knew that their existing analogue system would not be good enough to provide the level of security they needed throughout the course of the campus redevelopment and into the future. An analogue solution would be expensive and inflexible as the cameras would need to be moved frequently during the redevelopment of the campus. They looked at IP solutions that could integrate with their IT network and enable cameras to be quickly redeployed around the campus as building work progresses.
Having fully examined the advanced IP CCTV solution at Warrington Collegiate, The Oldham College had no doubts about developing their system around Controlware's Cware management platform and replacing their three old analogue systems with a single powerful platform.
Bob Leigh, Estates Manager for The Oldham College, who manages the security team, is extremely pleased with the improved quality and usability of the new solution. "Cware's management interface is great and much easier to use than our old system, best of all the image quality is superb allowing security staff to really see what they are looking at, which we didn't have before. Everyone who has seen the new solution says how impressed they are".
From day one Cware was so easy to use that staff taught themselves how to use the system in hours and this has made the team more confident in managing security incidents. Reviewing archive video recordings and exporting video to DVD has also become much easier. Specific footage is easy to find and video export takes a few mouse clicks instead of a lengthy process that required the help of a network specialist in the past.
Costs savings have also been made. Jon Evans, IT Services Manager at The Oldham College explains that "Since IP CCTV is so flexible we don't need to call in an external contractor to move cameras like we did before. The IT department can move a camera in 15 minutes when it would have taken an external contractor the best part of a day and cost the college £500. This also enables us to be proactive about security by moving cameras to potential hotspots in order to make the most of our resources"
The college can also take advantage of further cost savings from PoE (Power over Ethernet) technology which requires fewer cables to be run to cameras than traditional cabling. The network is also protected against power failure by UPS's (Uninterruptable Power Supplies) that deliver increased resilience over analogue or hybrid based systems where each camera would rely on its own power supply.
"The IT and Estates teams at Oldham College can see that the Cware management platform delivers real benefits. The new integrated system improves security and support operations enabling students and teachers to feel more secure and confident in security as the college develops as a world-class learning facility." said Mark Harraway, Country Manager for Controlware UK.
x x x
Editors Note:
Controlware GmbH, with headquarters close to Frankfurt/Germany, is a leading independent system integrator since 1980. In this time, Controlware has accumulated extensive experience in the design, delivery and maintenance of advanced, but cost-effective IT networking solutions. By specializing in the integration of communication solutions, application delivery, physical security, IT management and network video solutions Controlware offers a range of turnkey solutions that can be uniquely customized to exact requirements.
Controlware ensures customers benefit from the highest quality solutions through partnerships with leading manufacturers and also innovative start-up companies. With expert local sales and service teams of more than 580 employees, backed up by two global Technical Assistance Centres, Controlware ensures 24x7x365 coverage for customers throughout Europe, North America, Asia and Australia. The Controlware Group includes several subsidiaries, e.g. ExperTeach GmbH (providing multilingual IT seminars), Networkers AG (specialists for your networking needs) and Productware GmbH (R&D of our own products). Controlware are winners of the Best Project at the IFSEC awards in 2007 and 2008, and the Best Enterprise Solution at the European IT Excellence Awards.
For further information, please contact:
Ben Hutchins
Controlware Communications Systems UK
Unit 2b, Votec Centre
Hambridge Lane
Newbury
Berkshire
Tel: +44 (0) 1635 584500
E-Mail bhutchins@controlware.co.uk
Head office Germany
Controlware GmbH
Marketing Communications CWP
Waldstrasse 92
63128 Dietzenbach/Germany
Tel. +49 60 74 858-00
E-Mail: CWP-MarCom@controlware.de
www.controlware.de
2009-05-01