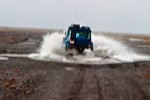 No Iceland vacation is complete without a trip out into the wild and unique Icelandic countryside. And one tour company is promising to make Iceland holidays even more thrilling and better value than ever.
High North is an innovative travel company in Iceland offering private tours in the biggest, meanest super jeeps with the friendliest, most expert guides.
Trusting High North with your Iceland vacation inspiration means you're guaranteed a truly unique experience at a very reasonable price. No two tours are ever the same and the only thing that's guaranteed is a good time.
High North offers a variety of pre-prepared package tours showing off some of South Iceland's most amazing sights. Even the package tours differ according to weather, time of day, time of year and the whim of everyone in the car: you are encouraged to tailor the trip to your desires.
Here is an example: you say, "Can we visit a hot lake on the way back?" And the High North guide says: "That's a great idea, let's go!" It is just that simple.
A good illustration of how High North offers something extra is the Golden Circle tour – a staple for almost everyone to ever visit Iceland; but a tour given a unique new twist by High North. In addition to Thingvellir National Park, the hot springs at Geysir and the spectacular Gullfoss waterfall, High North also takes you off road out into the desolate and majestic highlands and even drives you up on to Langjokull Glacier – thereby turning a pleasant and interesting day trip into a truly thrilling experience you'll never forget!
Alternatively High North can also arrange custom made Iceland holidays with almost no restrictions. The options are limited only by the visitor's imagination, and certainly not by the abilities of the off-road vehicles or their experienced drivers.
If you want to spend a week bird watching in Iceland, High North will take you to all the best, least visited and out of the way places to get you close to nature. The same is true if you have three days to spend salmon fishing or nine-and-a-half days to examine old Icelandic country churches.
For Iceland travel ideas, as well as beautiful photography, take a look at www.highnorth.is