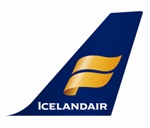 Iceland's financial difficulties have put the spotlight on the North Atlantic nation like never before and a new study reveals the country's image as a tourist destination has actually improved as a result of all the bad news.
A study conducted in February asked people in Denmark, Germany and the UK about their opinions of Iceland as a travel destination. The results show that interest in visiting the country has actually increased since the global banking crisis hit last autumn. The survey focused on respondents' impressions of the destination and not on the fact that visiting Iceland now costs less than in previous years.
The survey results were revealed at a symposium last week organised by the Trade Council of Iceland, the Public Relations Society of Iceland and the Iceland Tourist board, among others.
According to the Eye for Image agency, Iceland's image did not suffer as a result of the financial collapse because any publicity is good publicity, as the saying goes. Despite the negative content of a lot of the news, Iceland is very topical at the moment – an opportunity the country needs to seize and direct to its own advantage, Eye for Image's David Hoskin said.
Iceland's biggest airline, Icelandair has been using the extra publicity to push the idea of Iceland as a tourist destination with good results.
Icelandair flight bookings for this summer are already much better than expected. Tourists are being attracted to Iceland not only by the stunning scenery, the world-class angling, the elves and the puffins: it goes almost without saying that the weakness of the Icelandic krona is also a major reason to visit Iceland at the moment.
According to the survey, the first thing 55 percent of Britons think about when the word 'Iceland' is mentioned is nature. Many in the UK leg of the survey also characterised the Icelandic people as charming and kind.
The Germans agree, describing Icelanders as comfortable and hospitable to be around. Respondents in Germany also associate Iceland with beautiful houses and a good standard of living.
Respondents in Denmark think of Iceland mostly as a small nation that 'knows how to get by'.
For further details on travel to Iceland, take a look at www.icelandair.com