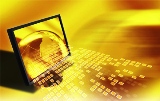 SecurStore exhibited its new secure online backup and recovery service at the Channel Expo in Birmingham for the first time this year. Despite initial nerves, the expo went better than anyone expected and SecurStore gained important exposure for its innovative new product.
At the recent Channel Expo SecurStore exhibited for the first time its SecurStore online backup and recovery solution. The agentless, automatic and easy to use SecurStore solution proved to be a huge success as visitors showed great enthusiasm in getting to know the product better.
Visitors were led through a live demonstration of a backup of e-mail servers using continuous data protection (CDP) and brick level backup allowing restoration and recovery of single entries such as single mails or calendar entries. Furthermore, visitors got to acquaint themselves with backup and recovery of data bases such as SQL and Oracle.
The biggest success, however, were the outstanding backup and recovery capabilities in the virtual environment, allowing backing up and recovery both at ESX level and single virtual machines for both VMware® and HyperV®. This revolutionary virtual backup solution, fuelled by the agentless feature of the SecurStore solution drew great attention resulting in a large number of potential customer signing up for the 30 day free trial that SecurStore offers.
"It was a great feeling for us at the show to get such a wonderful reception as, to be honest, exhibiting for the first time we did not know what to expect. The great variety of visitors and their instant liking to the SecurStore solution proved to us, not for the first time, that the SecurStore backup and recovery solution is more than a match for any backup solution", says Orn Gunnarsson, the CEO of SecurStore.
The Channel Expo is the biggest channel event in the UK showcasing the latest products, services and technologies, this year focusing on profit, partnership and education.
SecurStore is a specialist supplier of online, automated and managed data backup and recovery. The solution is totally agentless and covers Windows, Linux and Mac environments with wide application and database support. SecurStore delivers flexible, secure encrypted remote backup in a two tier solution where fast recovery, security and professional 24/7 support are all a vital part of the solution. Partnership with SecurStore ensures recurring revenue. SecurStore is certified by BSI against ISO27001 Information Security Standard.
For more details on SecurStore services, including VMware, please visit www.securstore.co.uk