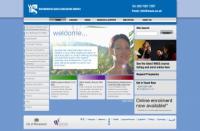 Egle kirlyte, originally from Lithuania, moved to London four years ago and is currently studying on the Graphic Design BTEC Level 2 course at Westminster Adult Education Service (WAES) in hope that it will lead her into her dream job as a Graphic Designer.
Previously, Egle studied the Introduction to Web Design course at WAES where she discovered her talent and enthusiasm for design, which prompted her to pursue a career in graphic design.
Once Egle completed the Introduction to Web Design course she progressed onto the Graphic Design BTEC Level 2 course at WAES in order to further her knowledge and skill set.
"The course has exceeded all my expectations, the teacher is amazing, she keeps me interested all the time.
I hope to start working in the design industry as soon as possible and build a portfolio of work so I can open my own design studio with my husband". Says Egle.
The course has enabled her to express her creativity as well as give her an insight of how the industry works.
Egle goes onto say; " I never thought I'd be able to do this course working full time, but I am, because of the flexibility it offers".
**ENDS**
Date: 23rd April 2009
Enquiries: Irene Watt 020 7641 7848
Editor's Notes
1. Westminster Adult Education Service (WAES) is one of the most diverse and dynamic communities in Britain. WAES reflects that diversity and dynamism. We are one of the largest adult education providers in the country.
2. The service is part of the education department of the City of Westminster. It is funded by the London Central Learning and Skills Council. Our board of governors includes student representatives, elected members of the city council and members from the community and local organisations.
3. We have strong roots in the community, running courses where they are needed through partnerships with the local authority and other community and education bodies.
4. To ensure the quality of our courses and support for students, WAES is inspected by the Adult Learning Inspectorate. On courses leading to national qualifications, we must also meet the high standards required by examination bodies.