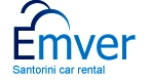 Emver rent a car is one of the leading car rental company based in Santorini island, Greece has announced great discount car hire offer for the visitors wish to travel Santorini from all end of the world. Now Emver is offering 30% discount for online car booking.
Santorini, Greece, May 01, 2009 – The leading Santorini based Emver Car Rental Company has announced massive discount offer of 30% for online car booking. This Discount car hire offer is valid for all the visitors who wish to have a summer vacation plan to the island of Santorini by booking a car online from the site www.santorinicarhire.com.
For visitors convenience Emver car rental is offering free delivery and pick up anywhere (Santorini airport, any hotel, any village, port) in Santorini. This will help the overseas visitors to start their journey from anywhere in Santorini without getting confused.
Traveling with well-maintained and new vehicle in Santorini is a great experience for Visitors. However one can find a great range of new cars with excellent mechanical condition such as Daewoo Martiz, Suzuki Swift, Hundai Accent, Smart Cabrio, Peugeot Expert, Fiat Dobio and more. The visitors can find all the information about the rental cars by visiting Santorinicarhire.com. Visitors can save 30% on each car by booking online.
Santorini is a dramatic and magical island with beautiful beaches, Villages, landscapes, live volcano, museums, breath taking sunsets and many more to name. The visitors can view all these sightseeing attractions individually, with family or groups without any hidden extras or charges at best value for money.
Now the visitors can explore the island of Santorini at very economical prices, which not only includes 30% discount but also many other facilities such as free unlimited kilometers, free third party insurance, free vehicle theft insurance, free additional drivers and free 24 hours road assistance. One can find all the latest offers and in formations from Emver car rental site at www.santorinicarhire.com.
About Emver Car Rental
Emver is a car rental company based on the scenic Greek island of Santorini. Established in 2000, Emver has placed its focus on ensuring that we provide the highest level of car hire service and safety to our customers around the Santorini Island.
Whether you are searching for a vehicle for leisure or business, we have a range of rental cars to suit your needs for a relaxing vacation and business travel. By offering a comprehensive car hire service to our customers, we aim to make your rental hassle free to compliment your stay here in Santorini. Emver offers competitive rental car rates and great selection to every car rental reservation.
Contact Details:
Emver Car Rental Company
Kamari, Santorini
Postcode 84700
PO 161
Greece
Tel: +30 2286033741
Fax: +30 2286034013
Mobile: +30 6977177042
Email: info@santorinicarhire.com
Web: http://www.santorinicarhire.com