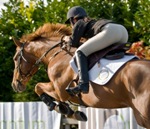 Seymourpowell, the leading design and innovation company, has extended its design repertoire yet again with the design of a radical new saddle.
The Quantum AMS Saddle has been 10 years in design and development and is set to turn the saddle market on its head. A traditional saddle exterior belies the formula one technology underneath and brings true innovation to a market that has been unchanged for 200 years.
Seymourpowell gathered together a group of designers, engineers, Olympic riders, and vets to embark on the long journey to design the perfect saddle. The team met with significant challenges along the way, but such was the belief of the Stockford family and the wider team that perseverance won the day.
Dick Powell, Director, Seymourpowell explains: "Opportunities to completely rethink a product from the ground up don't come along every day, even in our business. But to do it in a domain where so little has been changed or challenged for decades or even centuries, is rare indeed. It is a genuinely innovative product that delivers compelling improvements in functionality and performance. It is, quite simply, better by design".
Finished in the best quality Calfskin, the Quantum looks like a traditional saddle, but is different in most other respects, thanks to the use of modern materials and aerospace technology. The result is a bespoke flexible saddle that is fitted to both horse and rider, with demonstrable benefits for both.
"The Quantum is unlike anything the equestrian industry has ever seen before", says Matthew Stockford, Managing Director, Quantum. "Seymourpowell has helped us achieve a revolution in saddle design and construction that enhances performance, stability and comfort for both horse and rider. The results are staggering".
The first jump saddles will be available in February 2009, with a dressage saddle planned for March 2009.
About Seymourpowell
Seymourpowell is one of the world's leading design and innovation companies. The London-based group of award winning designers has produced some of the most innovative products of the last two decades. At the core of every project is a passion for creativity and an absolute commitment to creating better products: better for people, better for business, better for the world.
Seymourpowell is a fully functioning site, combining of a design studio, research centre and prototyping workshop. Specialisms include ethnographic user research, brand and design strategy, trends, innovation process; transportation design, product design and development, packaging and interactive.
For more details on Seymourpowell's innovational branding visit www.seymourpowell.com