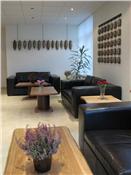 Going on holiday with the kids in Iceland is not only cheaper these days, but also more convenient and luxurious, thanks to Hotel Hafnarfjordur apartment hotel – apartment freedom with hotel service!
Hotel Hafnarfjordur apartment hotel offers a large selection of studio rooms in Iceland, with the freedom and value of holiday apartments and the comfort and service of a hotel.
Self catering apartments are usually cheaper than hotels and much more flexible; but hotels have important things like 24 hour reception, internet access, a bar and tourist information. As an 'apartment hotel', Hotel Hafnarfjordur offers all of the above and more.
Hotel Hafnarfjordur is a great hotel for families in Iceland. Elves, trolls, horses, amazing swimming pools and the exciting Viking Village are all in Hafnarfjordur – and amazing Reykjavik is only a few minutes away as well.
Old Hafnarfjordur spreads out from the town harbour in a maze of well-maintained old timber houses. The intimate harbour is always busy with boats and the town centre boasts a pleasant stream full of ducks and small fish, an eclectic mix of shops and boutiques, as well as many excellent options for eating and drinking.
Going for a holiday with the kids in Iceland has never been cheaper than now. The low rate of the Icelandic krona is making everything from hotel rooms to beer, and highland excursions to designer gear appear discounted. It's almost a case of, Iceland: Buy One Get One Free!
The stylish Hotel Hafnarfjordur apartment hotel offers a full range of apartments from simple singles all the way up to suites. Big or small, they are all clean, bright and airy – and all enjoy the same great level of service from the friendly staff.
The Icelandic apartment hotel's extensive website contains useful information on Hotel Hafnarfjordur, including prices, a description of facilities and an extensive collection of photographs to help prospective guests find a feel for the place. More details are available at www.hhotel.is