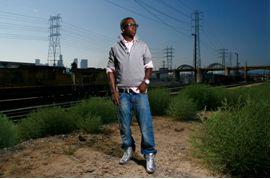 This year come and witness the return of the most explosive artists in modern day entertainment. The multi talented, Brooklyn based producer and singer Tah Mac, has stepped off his home turf in the USA to give the UK some of the freshest, most talked about tunes this side of the Atlantic.
Time of My Life is the debut single taken from the much anticipated album, Welcome 2 Tahland and in 2008 it looks set to sizzle! Time… an uplifting, feel good party track, also lays down the ground work for Tah's inevitable invasion of the UK charts. Tah Mac's latest full length effort features a veritable 'A List' of old school talent and rising stars. No stranger to quality and style, the man from NYC has secured the likes Mutya Buena, C.A.S.H (Ceelo Green from Gnarls Barkley) to give the album a knockout punch.
With a decade of experience under his belt, Tah knows how to create the very best music with top quality artistes. Not one to be pigeon holed, Tah has worked with diverse array of artists from Erick Sermon, Javine, Ciara, Onyx, Leona Lewis, Redman and Aretha Franklin to The Charlatans. Often describing his music as a 'global sound', Tah has finally crafted a sound that is uniquely his own.
So watch out for Tah Mac as he brings his spectacular live show and killer bag of tunes over to the UK this year!
Time of My Life will be released in the UK on 10th November 2008.
Check out the remix of Time of My Life before its release! http://www.zshare.net/audio/132007057b9a38c6/
www.tahmcent.com
www.myspace.com/tahmac
For further information please contact: Lucius@zestpr.com Tel. 0044 (0)207 734 0206