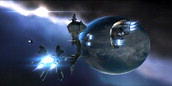 This November sees the fifth annual EVE Online Fan Fest in Reykjavik – an opportunity for players and developers to get together and thrash out the year gone by and the year to come inside one of the world's biggest multi player online computer games.
Once again Iceland plays host to the EVE Online Fan Fest, scheduled for the 6th-8th of November. CCP (the company behind EVE Online) invites players to meet other fans and people behind the avatars in person, including friends and foes alike from the battlefield, plus the CCP Developers.
As a proud partner of the game, Icelandair, Iceland's biggest airline, is offering special discount packages to the EVE Fan Fest from its 24 destinations in Europe and North America.
EVE developers describe the Fan Fest as, "A party like no other, at the top of the world". And indeed it promises to be the best experience of EVE Online anywhere; as usual held in CCP's hometown of Reykjavik, Iceland.
As a chance to meet the people behind the avatars in person (be they close allies or hated enemies), as well as the CCP Developers, Fan Fest is a must-attend event.
Catch an inside glimpse of what's in store for EVE; participate in live PVP tournaments; and, if you dare, venture out into the world-renowned Reykjavik nightlife afterwards!
Fan Fest is a celebration of EVE for players from all over the world who love the game enough to travel to a beautiful and wondrous place to meet others who share their passion. In addition, the CCP Developers will be mingling with the crowd, ready to discuss anything and everything about the gaming experience.
Icelandair is Iceland's biggest airline and the only airline connecting Iceland and North America. With 24 top destinations in Europe, the USA and Canada, flights to Iceland could hardly be easier.
For more details on Icelandair and Fan Fest flight deals, visit www.icelandair.net.