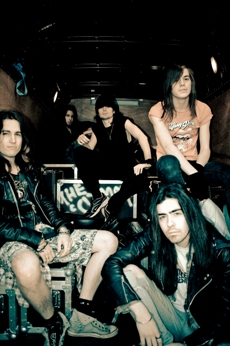 The pioneers for a new generation of rock music announce new London date… and a free bar.
Tune in, turn up the volume and strap yourselves in as Wired Desire take you on a trip of no nonsense, high velocity Rock 'n' Roll! Fresh from their full UK tour with rock Gods Nazareth, Wired Desire are fast building themselves a reputation as the pioneers for a new generation of rock music.
Barely Illegal, their debut EP is packed with raucous riffs, heavy licks and a bass on it with more revs than a Formula One carburettor. Set for official release on 6th October, the EP has already shifted over 700 units from sales at their last 13 gigs alone. With an impressive 400,000 Myspace views including an average of 400 plays a day the Scottish rockers are certainly wired up and undeniably desirable!
Having already shared the stage with Wishbone Ash, Eric Bell and Bad Company the boys mesmerising live show continues to tear through the UK music scene winning over new fans every night. Citing their influences as Aerosmith, ZZ Top, AC/DC and The Rolling Stones, these 5 young rock stars (the oldest of which is only 22) have already achieved in under 2 years what most bands don't achieve in a lifetime.
Rock 'n' Roll is back with a vengeance and Wired Desire are leading the way!!
For more information or press passes please contact Tom Green or Lucius Yeo on Tom@zestpr.com / Lucius@zestpr.com or call 020 7734 0206