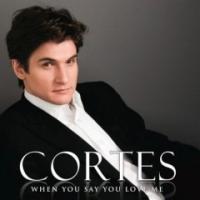 The Icelandic singer Gardar Thor Cortes follows up on his BRIT nominated debut album with a second album to be released on Monday.
The Classical Opera sensation Cortes is to follow up on his BRIT nominated debut album with his second release "When You Say You Love Me" next Monday in both countries he calls home, Iceland and UK.
The album has been in the making since late 2007 and is a labour of love the tenor says. "It was such a true joy putting this together. It's a nice mixture of pop classics and superb classical pieces" says Cortes.
The Icelandic tenor has wowed the nation and the industry with his phenomenal talent and striking looks. Whilst being described as 'The James Bond of Opera' (GMTV), 'The Voice of Pavarotti with the looks of Brad Pitt' (Newsweek) and with the Independent and Telegraph both putting Cortes on their list of 'Future Pavarotti's', Cortes still remains humble.
"It's quite unfair really. How can anyone be the next Pavarotti when he is still in all our hearts?" says Cortes. "Of course I am very flattered that the press think highly of me but I am no Pavarotti and no one else is either. Pavarotti was truly unique, he was one of the wonders of the world – no one can take his place" he insists.
Cortes will be performing throughout the UK, USA and Asia this year.
'When You Say You Love Me' will be released on Monday June 30th and can be preordered online from Play.com and at Amazon.co.uk.
Visit the official Gardar Thor Cortes website at www.officialcortes.com for more details on the new Cortes album and upcoming Cortes events.