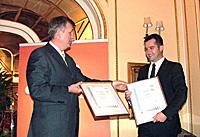 Generic drug company Actavis in Serbia has received ISO and OHSAS certificates for product quality, the environment and occupational health and safety.
Actavis in Serbia (Zdravlje Actavis) has been formally presented with certificates for the international standards ISO 9001:2000 (quality) and ISO 14001 (environment), as well as OHSAS 18001 (occupational health and safety).
The generic drug manufacturer received the awards at a recent ceremony in Belgrade. The certificates were issued by the authorised certification house SGS, an international inspection an d testing company.
"Great teamwork and the efforts of all our employees have brought our company to the highest European quality, environmental and health and safety standards," said Goran Stojilkovic, Managing Director of Zdravlje Actavis. "We are proud of our company's commitment to developing environmental awareness in the local community."
Other Actavis manufacturing sites holding an ISO 14001 certificate include Hafnarfjordur, Iceland; Dupnitza, Bulgaria; Barnstaple, UK and Norgesplaster, Norway, while Actavis' Russian manufacturing site Zio Zdorovje also holds an ISO 9001 certificate.
Actavis is a leading generic drug manufacturer which specialises in the development, production and sale of generic pharmaceuticals. Based in Iceland, the company has operations in 40 countries and 11,000 employees.
Visit the Actavis website for more information on generic drugs.