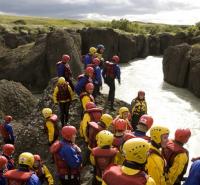 Iceland's Arctic Adventures offers an unbeatable range of outdoor activities and adrenaline sports, but is also fast gaining a reputation as one of the most serious eco tourism companies in Iceland.
Arctic Adventures specialises in making trips to Iceland unforgettable. Adrenaline-fuelled outdoor activities in Iceland are the name of the game, and Arctic Adventures goes to great lengths to thrill.
But the Icelandic activity tour specialist also goes to great lengths to protect the environment by offsetting carbon through the Icelandic Carbon Fund, recycling waste and educating participants on how to adhere to the company philosophy: "kill nothing but time, take nothing but photographs, leave nothing but footprints, make nothing but memories".
Arctic Adventures is also an active member of the Icelandic Nature Conservation Organisation; a campaign group which monitors and discusses the impact of construction in the Icelandic countryside.
Arctic Adventures offers over 20 different activities, including whale watching, white water rafting, snowboarding and super jeep treks. The company mainly operates in South Iceland but is able to work anywhere in Iceland if necessary.
Incentive travel is also among Arctic Adventures' areas of expertise, as the flexibility and experience of the company's motivated team means they can organise almost any activity, for any size group, anywhere in Iceland.
White water rafting is Arctic Adventures' most popular tour – fun for all abilities and ages over 12. Just bring a towel and a change of clothes, and be prepared for an unforgettable day, come rain or shine. Iceland is famous for its raging glacial rivers and stunning scenery, so it's only natural that visitors are so keen to experience it at first hand.
For more information on activities and adventures to stimulate body and soul during visits to Iceland, visit the Arctic Adventures website at www.adventures.is