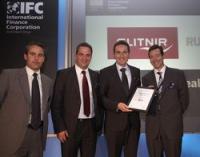 Nordic bank Glitnir wins second prize at the Financial Times Sustainable Banking Awards.
Glitnir Bank made second place for the "Sustainable Deal of the Year" at the Financial Times Sustainable Banking awards which were presented in London last week.
Among speakers at the award ceremony were the Mayor of London, Boris Johnson and Barcleys Chairman, Marcus Agius. The CEO of the Financial Times, John Ridding, presented the awards.
Attending on behalf of Glitnir were; Alexander Richter, Director of Global Industry Research and Communication, Helgi Anton Eiríksson, EVP of International Banking Europe and Jonathan Byrne, Director of Business Management.
The 'Sustainable Deal' relates to a geothermal generating facility being developed in the Salton Sea geothermal field in California.
"This is a great acknowledgement for our work, especially when you consider how tough the competition was" said Alexander Ricther. "We were competing with large players such as Citi US, Merrill Lynch, Morgan Stanley and BlueOrchard Finance, but last the two jointly won the category. We have a very strong position in the US geothermal energy market and we intend to strengthen it even further", said Mr. Richter.
According to the deal, Glitnir Capital Corp. provided a $15 million Senior Secured 'Resource Verification Loan' to the company Hudson Ranch. Alexander Richter said that Glitnir Bank was among the first financial institutions to offer this sort of financial product in the USA.
"Last year we provided Nevada Geothermal with a similar loan. The US Geothermal market is very interesting for us as we foresee considerable developments in the energy market especially regarding alternative energy resources are", said Mr Richter. "Geothermal Energy is surly one of the alternatives. Glitnir's position in the US geothermal industry is strong and the outlook is very good".
Visit Glitnir Bank´s website at www.glitnirbank.com for more information on Glitnir and geothermal energy.
Contact:
Bjørn Richard Johansen
Managing Director, Corporate Communications, Glitnir
Tel: +47-47 800 100
E-mail: brj@glitnir.no