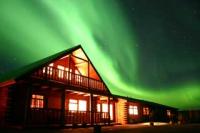 Hotel Ranga, a luxury hotel near Hella in south Iceland, has become a member of Special Hotels of The World.
One of Iceland's best luxury country hotels, Hotel Ranga in south Iceland, has become part of the international accommodation service, Special Hotels of the World.
Over fifty hotels around the world are members of the organisation which offer exclusive service and occupy a unique market position in their respective country.
Hotel Ranga is a 4 star hotel located 96km from the Icelandic capital, Reykjavik, and has earned a reputation among both its Icelandic and foreign guests as a premier country retreat in south Iceland.
The luxury hotel is currently unveiling a new design for 2008 which has been inspired by the surrounding landscape. Guests have views of three glaciers and the volcano Hekla, as well as one of the best salmon fishing rivers in Iceland which is just 40 metres from the hotel.
Thanks to its position in the unspoilt Icelandic countryside, Hotel Ranga has become a popular accommodation choice for visitors hoping to see the Northern Lights. It is also located close to popular tourist destinations in south Iceland, such as Geysir, Gullfoss waterfall and Thingvellir national park. The hotel also sits in the middle of the historical region made famous in Njáls Saga.
The hotel has 38 rooms, many of which have jacuzzis, outdoor hot tubs, a luxurious bar & lounge, wireless internet and a restaurant famous for its innovative international cuisine and excellent wine list. The hotel even has its own beer brand, Hrammur Beer, which is named after the 10-foot polar bear which guards the lobby entrance.
"We have a little bit for everyone, says Björn Eriksson, hotel manager. "We are in the middle of nowhere but we are in the middle of south Iceland – relaxation, pleasure adventure or business. We can accommodate all of these needs."
The hotel's conference room is also being enlarged and the restaurant will be able to seat 110 people once completed this year. 2008 will also see the introduction of massage and relaxation facilities and in 2009 there are plans to open a luxury spa as well as a conference and trade centre.
Visit the Hotel Ranga website for more information on the luxury hotel in south Iceland.