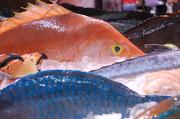 How will the current market conditions affect the global seafood industry?
With this week's European Seafood Exposition taking place in Brussels, Nordic bank Glitnir is addressing the effects of the current economic climate on the seafood industry.
The economic difficulties pose new challenges to the seafood industry in a number of ways:
• Changing consumer behaviour, looking for more economical options
• Increases in the cost of energy, transport, finance, ingredients etc
• Tighter access to funding in capital markets
All of these factors create challenges for management of any seafood company, and changes in the currency rates, notably the US dollar, will affect industries in different countries in different ways. Some will face challenges in pricing, others will enjoy increased marketing opportunities and some will find new opportunities for organic growth or via acquisitions that were not available a short time ago.
Challenging conditions in general naturally emphasise and increase the difference between the performers and the non-performers, creating opportunities for the market leaders to improve their position.
Companies who do nothing to counter the effects of the current economic realities will face serious difficulties in the future. Some will survive by improving their operations, whilst others will not. Some can take advantage of the situation now to grow organically or by pursuing one of the many acquisition opportunities that exist in this fragmented industry.
In every challenge there is an opportunity, and this is valid for seafood as for any other industry.
Glitnir Bank has a long history of understanding these fundamentals and working in the global seafood sector – it is both our heritage and our focus. Glitnir Bank is actively supporting the seafood industry's growth and helping performers take advantage of opportunities. We believe these challenging economic times provide for some unique opportunities to those with an entrepreneurial spirit and we will be pleased to discuss these with you.
Glitnir will be present at the European Seafood Exposition in Brussels taking place until Thursday 24th April.
Brussels Exhibition Centre – Parc des Expositions – European Seafood Exposition:
Hall 6 – Booth 935-4 (Glitnir) – Place de Belgique – B-1020 Brussels, Belgium
For further information contact:
Kristjan Davidsson, Managing Director, Global Seafood
Tel: +354 844 4517 kristjan.davidsson@glitnir.is
Kjartan Emilsson, Managing Director, Global Seafood
Tel: +47 959 26 015 E-mail: kjartan.olafsson@glitnir.no
About Glitnir Bank
Glitnir is a Nordic bank, with headquarters in Iceland and operations in ten countries. Our home markets are Iceland and Norway, where Glitnir offers a broad range of financial services, including corporate banking, investment banking, capital markets, investment management and retail banking. Outside of the Bank's home markets we have operations in Finland, Sweden, UK, Luxembourg, US, Canada, China and Russia. We will furthermore open an office in India in the second half of 2008. Our international expansion is mainly driven by two specialised industry sectors – Seafood and sustainable energy – in which we have developed significant industry expertise built on our Icelandic and Norwegian heritage. Our shares are listed on OMX in Iceland under the symbol, GLB.
Visit the Glitnir website for more information on financial solutions to the seafood industry.