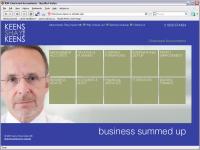 Smooth launched a new website for oldest firm of chartered accountants in Milton Keynes, Keens Shay Keens MK, who specialise in profit improvement and international company set-up.
The firm's key objective is to provide a premium service to individuals and to business owners, who naturally expect a high quality personal service. Their skills range is hard to beat. The wide and constantly growing scope of the accountancy business demands a huge variety of expertise which they are able to provide in house.
The new website provides a comprehensive tool for users by providing information about the variety of accountancy services together with an overview of the firm and its people.
Having worked on the development of Keens Shay Keens MK brand, Chris Underwood of Smooth commented: 'This new website conveys that Keens Shay Keens MK are putting their employees' and their clients' interests at the heart of everything they do.
It highlights that theirs is a driven firm, at the same time conveying the notions of business acumen, flexibility, availability, understanding and responsiveness. Internally, it reminds people that KSK is what it is because of them. The use of photographs highlights that they are a group of individuals, all with the same focus, namely the success of their clients.'
See it for yourself at www.keens.co.uk