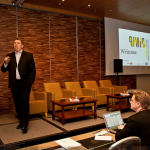 The Reykjavik Internet Marketing Conference (RIMC) has announced that preparations for the 2015 edition of the event are currently underway.
RIMC 2015, which will be in its 12th year, is set to take place in April (dates yet to be confirmed) and will be held at the Grand Hotel Reykjavik in Iceland's capital city, Reykjavik.
The conference is set to focus on the current aspects of Internet Marketing, such as Social Media and Search, and has confirmed speakers from a variety of great brands and businesses.
In previous years, the conference has seen hundreds of attendees, with more than 25 percent of guests from outside of Iceland, including the UK, Norway, Sweden, U.S, Germany, Russia, Iran, and more.
The Reykjavik Internet Marketing Conference (RIMC) is an essential networking tool for marketing and advertising people, web editors, sales and marketing managers, as well as directors of small and large businesses. The conference is also ideal for anyone who is interested in business on the Internet.
Some quotes from those attending or speaking at RIMC over the past years:
"Reykjavik Internet Marketing Conference: An Extraordinary Experience"
Rand Fiskin – SEOMoz
"I loved the atmosphere, mood and networking at RIMC"

Massimo Burgio – Global Interactive
"Iceland is so beautiful and so different from anything else I have seen and experienced"

Mikkel DeMib – DeMib.com
To learn more about RIMC 2015, visit www.rimc.is/en.