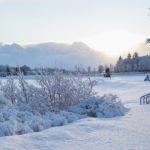 Leading tour provider Reykjavik Excursions is offering a fantastic walking tour that gives travellers a chance to uncover the Christmas and cultural traditions of Iceland.
The tour, Reykjavík Christmas Walk, gives visitors the chance to discover the Christmas traditions of Iceland, from art and architecture, culture, cuisine, and history in the country's capital city, Reykjavík.
As part of the tour, visitors will wander through the Christmas setting of Downtown Reykjavík; admire the beautiful lights and Christmas tree in Austurvöllur. Along the way, several stops at various restaurants will give visitors a taste of Iceland's culinary traditions, including fermented shark, smoked lamb, and warming Icelandic mulled wine.
As the tour comes to an end, visitors will get to visit one of Reykjavik's oldest hotels and converse with the restaurant's head chef to learn about the culinary history of Iceland, as well as discover the largest private art collection in the country. In addition, visitors will receive a little Christmas gift to take home with them at the end of the tour.
Furthermore, visitors can explore a little bit extra with the Reykjavík Christmas Walk & Gullfoss, Geysir & Thingvellir tour, which includes the walking tour in Reykjavik, as well as an afternoon exploring the Golden Circle tourist route.
The Golden Circle is a beautiful experience in winter, whereby the country's most well known landmarks are frozen and snow-covered. These include the Thingvellir National Park, the world-famous Geysir geothermal area with spouting hot springs, and the Gullfoss waterfall. And that's not all, throughout December visitors will receive a 1000ISK discount on this tour.
To learn more about the Reykjavík Christmas Walk, visit https://www.re.is/day-tours/reykjavik-christmas-walk-rvk.
For more information about the Reykjavík Christmas Walk & Gullfoss, Geysir & Thingvellir tour, click here.