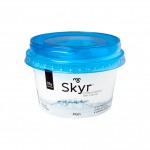 The Icelandic yogurt by MS, Skyr, has been named the number one nonfat yogurt according to a recently published taste test article by the Huffington Post.
The test featured 12 plain, nonfat yogurts, comprising mainly of Greek-style yogurts, which were taste tested by 11 blindfolded participants. Icelandic Skyr hit the top spot, despite Greek-style yogurts gaining popularity over the last half-decade.
Huffington Post's article asks whether MS' Skyr could become the new it-girl? With reviews including:
"Super thick but SO sour. Would make a great base for a dip."
"Yum! I wouldn't eat it plain, but good in dips."
"Extra points for thickness — how'd they do that without fat?"
"This yogurt could be a meal! Sour, thick, creamy and very delicious."
These reviews are giving an indication that Skyr is here to stay amongst nonfat dairy products, already gaining wide acclaim in the UK, U.S. and the Scandinavian region.
Over 700 of Iceland's family-run dairy farms and other milk producers across the country make up the cooperative organization, MS. The mission of the company focuses on milk production and the making of high-quality Skyr, cheeses, butter, and other dairy products.
To learn more about Icelandic Skyr, visit www.skyriceland.com