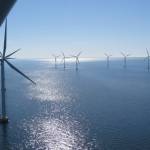 It has recently been announced by TUjobs.com that Masdar (Abu Dhabi Future Energy Co.) will buy half of Statoil's shares in Dudgeon offshore wind farm.
In June, Statoil, in collaboration with Statkraft, decided to build the offshore wind park, Dudgeon, off the east coast of England. Now, Masdar is set to buy half of Statoil's shares, meaning the two companies will each own 35 percent of the wind farm, with Statkraft owning 30 percent.
This agreement was signed on 23rd September, during the 2014 UN Climate Summit in New York, between Statoil CEO Helge Lund, Statkraft CEO Christian Rynning-Tønnesen, UK Energy Minister Ed Davey, and Masdar's Chairman Sultan Al Jaber.
Spokesperson for Statoil, Morten Eek, explains to Teknisk Ukeblad, "We are pleased to have a partner with ambitions in renewable energy technology. Masdar is a business incubator that invests and develops these technologies."
Construction of the offshore wind farm is set to begin in 2016, and is set to generate least 70 local jobs in the operational phase. In addition, jobs during the construction period, and indirectly through the supply chain.
For more information on this story, visit http://www.tujobs.com/news/313246-arabs-buy-half-of-statoils-offshore-wind-farm-shares