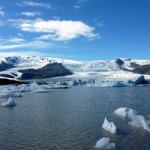 Tour provider in Iceland Reykjavik Excursions is reopening its tours to the Vatnajokull glacier within the Skaftafell National Park for the summer tourism season.
As part of Reykjavik Excursions' Skaftafell National Park guided tour, travellers will be able to explore the national park, walking to the mystical waterfall Svartifoss, and view the location's rich wildlife.
The Skaftafell National Park is known for its stunning natural beauty, full of a vast variety of plants and wildlife, rugged mountains, and beautiful glaciers.
Vatnajokull, Europe's largest ice cap, is located within the boundaries of the park. The glacier's peak, Hvannadalshnjukur, is the highest peak in Iceland, standing at 2.110 metres. At the edge of the glacier is the Jokulsarlon glacial lagoon. The lagoon is home to epic glacial formations and a bunch of curious seals waiting to greet visitors.
The Skaftafell National Park guided tour will be available between June and August.
Reykjavik Excursions is a fully licensed tour operator and travel agent and is the leading organiser of day tours in Iceland. Reykjavik Excursions operates one of the biggest bus fleets in Iceland, making the company one of the largest organisers of tours both for individuals and groups in Iceland.
Reykjavik Excursions provides free wireless Internet access on every bus in its fleet during all tours in Iceland.
To find out more about the Skaftafell National Park guided tour with Reykjavik Excursions, visit https://www.re.is/day-tours/skaftafell-national-park