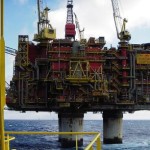 Johan Sverdrup, the most important oil discovery in Norway in decades, could yield a recovery rate as high as 70 percent, according to Statoil, the country's largest energy company and operator of the field.
What seems like Norway's third largest discovery ever as well as the biggest since 1974, could hold up to 2.9 billion barrels of oil equivalent according to a December 2013 estimate.
The discovery, which was made in two parts in 2010 and in 2011, helped Norway regain confidence in its oil sector, after seeing a declining output from aging fields in the North Sea over the past decade. It is estimated that ten years from now, the new oil field could generate up to a quarter of Norway's entire oil production.
"This is very good oil and the reservoir is good. If we work with that over the lifetime, we can manage to get almost a 70 percent recovery rate", said Statoil executive Margareth Øvrum.
With the future of the Norwegian oil and gas industry looking bright, many oil and gas companies in Norway are utilising the online recruitment website TUjobs.com to post daily job vacancies in the search for experienced foreign professionals to join their teams.
For more information and to search for job opportunities in the oil and gas sector in Norway, check out www.TUjobs.com.