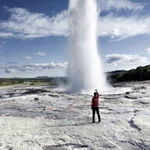 During the winter months, Golden Circle's three main stops – Þingvellir, Gullfoss, and the active geothermal valley of Haukadalur – all take on a different persona. Maybe that's why Iceland's Golden Circle remains the most desired tour destination throughout the winter months?
The Gullfoss waterfall partially freezes, forcing the Hvítá river to meander the natural frozen sculptures that transform the canyon base. Þingvellir – a site of historical, cultural, and geological importance – also partially freezes over and remains covered in a blanket of snow, for the most part, throughout the winter months.

Reykjavik Excursions (RE), a leading tour provider in Iceland, offers its own take on the Golden Circle tour. As part of its tour, guests will visit the aforementioned sights, as well as the Friðheimar cultivation centre, and experience the Geysir multimedia show.
Additionally, RE offers free wireless Internet access on every bus in its fleet during all excursions in Iceland, as well as the Flybus airport shuttle. This free Internet connection gives passengers the opportunity to interact with their friends and family, as well as uploading photos online seconds after visiting these sights – sharing their unique experiences over the web.