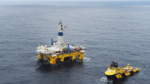 Norway's largest energy company Statoil recently expressed its interest in pursuing exploration for oil and gas off the east coast of Canada. The oil company announced that it found between 300 and 600 million barrels of recoverable oil in the Bay du Nord, 500 km northeast of St John's in August 2013, making it the biggest oil find in the world last year.
The head of Statoil for Canada announced that the drilling programme should begin in July this year, while exploration continues on the Norwegian continental shelf.
The last few years have seen a number of important oil and gas discoveries off the shores of Norway, most notably in the Barents Sea. Those discoveries include the Castberg and Havis fields in 2011 with a volume of recoverable oil estimated between 400 and 600 millions barrels, and the more recent discovery of Skavl, which includes up to 50 millions barrels of extractable ressources.
With the continued rise of offshore activity in Norway, oil companies are looking for foreign talent to join their workforce. Many companies are recruiting through TUjobs.com, an online recruitment website that posts daily job vacancies in the oil and gas industry.
For more information and to search for job opportunities in Norway, check out www.TUjobs.com.