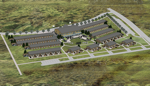 New hotel in Iceland Stracta Hotel has been featured in a recent travel article about hotels for 2014 by the British publication The Independent.
Stracta Hotel, which is set to open at the end of May 2014, is located in Hella, southern Iceland, right in the heart of the country's unique landscape.
The Independent article, titled New hotels 2014: Check-ins to check out, discovers the most talked about boutique hotels across the globe for 2014. The article stated that the Stracta Hotel "is positioning itself as a place to relax, but also to explore the famed volcanic landscape."
The Stracta Hotel in Hella is located in relative proximity to numerous well-known attractions in Iceland, including Hekla, Eyjafjallajokull, Thorsmork, Gullfoss, Geysir, Thingvellir and Jokulsarlon.
Over the coming years, nine other hotels will follow Hella, each located to make the most of Iceland's varied and unique natural landmarks. The majority of the hotels will be positioned on the outskirts of small towns, villages or natural wonders, giving guests easy access to Icelandic nature and the all-important shops, bars, tour operators, and restaurants.
Click here to read New hotels 2014: Check-ins to check out in full.
For more information about Stracta Hotel in Hella, visit http://stractahotels.is/