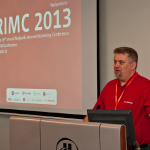 The upcoming 2014-edition of the Reykjavik Internet Marketing Conference (RIMC) has announced that it will be featuring key speakers from Dell, Heineken, KLM, Nokia, Roland, and more.
Keynotes at RIMC will be provided by Ajit Sivadasan, Head of Global Web Strategy, Lenovo; Paul Tholen, Social Media Manager at Heineken; Martin MacDonald, Director, Inbound Marketing at Expedia; Russell O'Sullivan, Digital Marketing Manager at Roland; Koen Spiers, Social Media Manager at KLM; and Richard Margetic Director, Global Social Media, Dell.
Ajit Sivadasan is the Global Head of Lenovo.com and manages all key aspects of Lenovo's global web strategy. This includes B2B and B2C Web Sales and Marketing and its overall digital strategy across the company's extensive web presence in 70+ countries.
Paul Tholen heads social media for Heineken Netherlands. This consists of both strategic and tactical planning on how to build up and maintain an effective social/digital presence for Heineken Netherlands' beer and cider brands. Paul's mission is to make all marketing communication better through the findings that social media generates.
Additionally, Reykjavik Internet Marketing Conference has announced that it will be held in conjunction with the 2014 European Search Awards. The European Search Awards celebrates the very best in search, PPC and digital marketing from across the continent.
RIMC is an annual Iceland-based conference that has over the years proven itself to be an essential networking tool for marketers and advertisers, web editors, sales and marketing managers, as well as directors of small and large businesses.
The 2014-edition will be taking place on 28th March 2014 at the Grand Hotel Reykjavik in Reykjavík, Iceland.
There are various sponsorship opportunities available at RIMC. For further information please contact Reggie Magnusson via rimc@rimc.is.
For more information about Reykjavik Internet Marketing Conference 2014, visit http://rimc.is/en