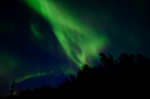 Self drive tours are being offered by Iceland Car Rental this winter for visitors looking to experience the Northern Lights in Iceland.
Iceland Car Rental notes that self drive tours as the perfect way to experience the Northern Lights in Iceland due to the freedom and flexibility that they provide.
Iceland's location just below the Arctic Circle is the perfect destination to experience the natural light displays of the Aurora Borealis, as they occur most frequently in the Polar Regions, centered within a 2500 km radius of the geomagnetic pole.
Iceland Car Rental wants to point out that due to the harsh terrain of Iceland's countryside roads and highlands, visitors need to learn the correct road procedures for the various driving situations that can occur, including river crossing and gravel road driving.
"It's important for car rental companies in Iceland to educate their customers on how to correctly handle 4×4 vehicles in order to prevent accidents," explains Kristjan Baldvinson, CEO of Iceland Car Rental.
To find out more about Northern Lights self drive tours in Iceland, visit http://www.icelandcarrental.is/