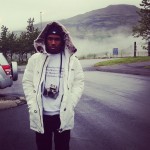 A recent article posted via IceNews about American singer and songwriter Frank Ocean wearing a jacket by 66°NORTH has added to the increased support for the popular Icelandic outdoor clothing brand.
According to IceNews, Frank Ocean has shown support for 66°NORTH as part of his stay in Iceland, which included a near-sold out show at the Laugardalsholl sports hall in Reykjavik in July 2013.
Furthermore, Frank Ocean was spotted via mbl.is wearing 66°NORTH's Snaefell parka jacket during his trip to the popular Geysir hot spring.
Ocean posted via blogging website Tumblr various images of himself visiting landmarks across Iceland, including Thingvellir, Vik, and Svartifoss at Skaftafell National Park.
This isn't the first time that 66°NORTH has seen support from a celebrity; Tom Cruise was spotted wearing a 66°NORTH jacket during the filming of the science fiction film Oblivion.
66°NORTH is one of Iceland's oldest manufacturing companies, where it was established in 1926. It has been a long-time leading innovator in the creation of specialised clothing for use in the toughest conditions on land and sea. Over the past ten years, 66°NORTH has grown extensively and is considered an expert in the production of outdoor clothing.
66°NORTH is an authentic brand that draws upon 1000 years of history for inspiration. The company merges high quality technical fabrics with technical designs to satisfy the active user.
For more information about 66°NORTH, visit http://www.66north.com/