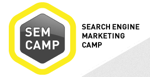 Online marketing company Promodo is set to host the Internet marketing conference Search Engine Marketing Camp (SEMcamp) on 4th October 2013 at the Rus Hotel in Kiev, Ukraine. The one-day event is set to focus on the trending issues of SEO and online marketing in Western markets.
As a SEMcamp conference participant, visitors will learn more about the efficient techniques of SEO development within small budget restrictions; view integrated developments in content marketing and social networks, as well as discover the newest methods of development in the B2B sector.
Furthermore, visitors will learn how to improve conversion on mobile versions of websites; the best 'tools' in video-marketing; and find out the best practices for promoting an online shop in North America. Guests will also get an opportunity to talk to and share experiences with successful foreign colleagues, who are leading experts in online marketing.
SEMcamp will be of interest for those seeking to enter the Western markets, as well as SEO specialists, marketers, freelancers, in-house specialists, and marketing agencies.
Speakers for the upcoming event include: Bas van den Beld, State of Search; Simon Dance, HouseTrip; Kevin Gibbons, BlueGlass; Adam Crawford, Cheapflights; аnd Jose L. Truchado, Expedia; Kirill Kliushkin, Alconost; Oleg Shchegolev, SemRush; Julia Palatovskaya, G5; Ruslan Savchishin, MagneticOne; Viktor Karpenko, SEOProfy; and Promodo specialists Roman Viliavin, Roman Dobronovsky, Alex Vasutkin, and Catherine Sudarkina.
For more information regarding SEMcamp, visit http://en.semcamp.ua/conference/2013/