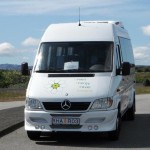 Eco tour adventures are being offered by Green Energy Travel in Iceland suitable for those who wish to see the country's most-loved sights without unnecessary environmental stress.
Green Energy Travel Iceland is a new environmentally friendly tour provider offering a personal service for small groups. The company aims to conduct its tours in an eco-friendly way by using methane gas and biodiesel, and travelling in smaller groups to minimise impact on fragile natural sites.
The company's knowledgeable guides offer tours to Iceland's best-loved sights, as well as some more unique locations.  The company's service caters for family-groups who want to enjoy a relaxing journey with a cosy atmosphere.
Tours with Green Energy Travel range from day tours, half-day tours, evening tours, and special thematic tours. With its thematic tours, guests can learn about the geology of Iceland, historical and saga tours, and Icelandic literature.
One example of its tours includes Above and Under the Lava, a half-day tour where visitors will get to know the lava flows and craters of Iceland. On the tour, guests will experience the hot springs of Krysuvik, where the earth is in constant change – the last one taking place in 2001. After that, guests will see craters and lavaflows by the seashore and then end by entering a real lava tube.
For more information regarding eco tours in Iceland, visit get.is.