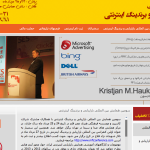 The popular Internet marketing and branding conference, ebconference.com, is to be held in Tehran, Iran on 15th and 16th August 2013 at the IRIB Conference Hall. Organisers Kaspid and Asr-e Ghalam are encouraging executives within eMarketing to attend the event, which has been noted as one of Iran's leading Internet marketing conferences.
Conference attendees will hear Marvin Liao, Yahoo's former Commercial Director for Europe, Middle East and Africa, deliver a lecture on the most recent developments in web marketing.
"The aim of the conference, in which 800 senior executives, company owners and directors of large businesses will participate, is to develop exports, promote branding through the Internet, build culture and increase online sales," explains Kaspid's Chief Executive Officer, Hamid (Hubert) Sepidnam.
Kristjan Mar Hauksson, Advisory Board Member for Bing Advertising, and Bas van den Beld, winner of the Best European Search Blog, will be sharing their experiences with the event's attendees. Also to speak will be Denmark's Mikkel deMib Svendson, a veteran of the SES conferences.
Other lecturers include Dr. Ali Akbar Jalali, Dr. Shahriar Shafi'ee, Dr. Mahmoud Mohammadian, Dr. Jamshid Edalatian and Dr. Ghodrat Sepidnam.
Sponsors include Qatar Airways, Artavil, Mabna Modiran-e Mi'ad, Trust Company, Petunia Company, Asr-e Ertebat Weekly, Sara Tejarate Khavarmianeh, Khorasan Newspaper, Holding Business Golden Way Company, Badkoubeh Advertising Agency, Vozara Carpet, Mojtama Fanni (Alborz Province Representation), Shahrvand, Alagheband Jewerly, Fava Gostar, Aparat and Asia Economic Newspaper.
To find out more about the conference, visit ebconference.com.