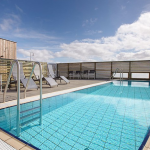 The popular geothermal spa in Iceland, Laugarvatn Fontana, has announced that it will be expanding its pools into the basin of the Laugarvatn lake, located in the south of the country.
The purpose of the expansion is to allow the spa's visitors to bathe in the natural surroundings of the Laugarvatn lake without being restricted by the visual constraints of the building.
Laugarvatn Fontana is renowned for offering its customers a relaxing and authentic Icelandic experience whilst relaxing in the warm geothermal pools and natural steam rooms. The baths vary in depth, size and temperature, and the steam rooms have been built over natural hot springs where steam simmers through grids in the floor, allowing visitors to hear the sounds from the Earth's core.
The Laugarvatn lake is located in a hot zone, whereby erupting water and hot springs reside. This hot water and various hot springs have been used for cooking, bathing, geothermal house heating and healing steam bathing for the local village settlement; first stories of bathing at Laugarvatn date back to the year 1000.
Reykjavik Excursions, the Iceland day-tour provider, offers two day tours out of Reykjavik that include a visit to Laugarvatn Fontana. Both tours are operated daily all year around and include pick-up and drop-off to and from your hotel, hostel, or guesthouse in Reykjavik area.