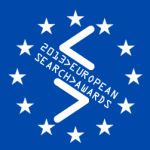 The European Search Awards has announced the judges for the 2013 edition of the awards, including Kristjan Mar Hauksson, the Director of Digital at Nordic eMarketing; Massimo Burgio, Founder and Chief Strategist at Global Search Interactive; and Bas van den Beld, Founder of State of Search.
The European Search Awards celebrates the very best in search, PPC and digital marketing from across the continent. There are 19 categories in total for campaigns, software, teams, and the individuals behind them – submission for all entries is free. There will also be a special Grand Prix award given to the best of the best European search campaign, platform, or software.
Guest judge Kristjan Mar Hauksson believes that the awards should be completely transparent and beyond reproach, therefore judges and their companies are exempt from entering the awards.
Kristjan Mar Hauksson is the Founder and Director of Digital at Nordic eMarketing. The company specialises in multilingual online communications, organic search engine optimisation, and marketing through several verticals such as tourism, finance, government, and pharmaceuticals. It helps companies gain international visibility online and to use the Internet as a communication channel; it also provides consultation in web content management systems and analytics solutions.
Hauksson is on the board of directors of SEMPO and founded the Iceland SEO/SEM forum. He has been involved in developing Internet solutions since 1996, and involved in search engine optimisation and marketing since 1999.
The deadline for all entries is Friday 19th April 2013, there will be a judging session to decide the winners in early May, followed by the announcement of the shortlists not long after.
Judges alongside Kristjan Mar include Sara Andersson, Founder, Search Integration; Bas van den Beld, Founder of State of Search; GJ Bramer, Google Adviseur; Massimo Burgio, Founder and Chief Strategist at Global Search Interactive; Gianluca Fiorelli, Founder, ILoveSEO; Nick Garner CEO, SearchWorks; Bastian Grimm, Managing Partner, Grimm Digital; Martin Kovac, Global Online Marketing Manager, ESET; Judith Lewis, Head of Search, Beyond; Steve Lock, Head of Search, GPMD; James Murray, Digital Insight Manager, Experian Marketing Services; Aleyda Solis, International SEO, SEER Interactive; Stefan Tarnell Partner, Curamando; and Guillermo Vilarroig, Managing Director, Overalia.
Full details regarding the awards, categories, and terms and conditions are on the awards' website, http://www.europeansearchawards.com. For those on Twitter, join the conversion by including #eusearchawards in your Tweets.
Be sure to follow Kristjan Mar Hauksson via his blog, http://www.optimizeyourweb.com, and Twitter.