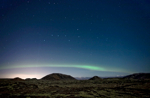 As part of all Northern Lights tours with Reykjavik Excursions, free wireless Internet is provided onboard its coaches, giving passenger the chance to post images online in real time.
This free Internet connection allows passengers to upload photos online seconds after taking them, sharing this incredible experience with friends and family in real time.
With Reykjavik Excursions' Northern Lights tour, guides take sky-gazers to locations with the best viewing possibilities, dependent on weather. Here, lucky viewers will get the chance to experience the dancing lights of the Aurora Borealis.
Reykjavik Excursions provides free wireless Internet access on every bus in its fleet during all tours in Iceland, as well as the Flybus airport shuttle, connecting travellers from Keflavik International Airport to Reykjavik and vice versa.
Reykjavik Excursions is a fully licensed tour operator and travel agent and is the leading organiser of day tours in Iceland. Reykjavik Excursions operates one of the biggest bus fleets in Iceland, making the company one of the largest organisers of tours both for individuals and groups in Iceland.
To find out more about Northern Lights tours with Reykjavik Excursions, visit http://www.re.is/DayTours/Activity/Details/Northern-Lights-Tour-Oct-March/.