The popular Reykjavik Internet Marketing Conference (RIMC) has announced that its 10th annual event will be taking place on 21st and 22nd March 2013 at the Hilton Hotel Nordica in Reykjavik, Iceland.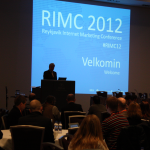 For the third time since the event's inception, RIMC will be split over two-days, with each day focusing on a different market. Day one (21st March) is set to explore the Icelandic market, and the factors effecting this fast-growing environment, including case studies. Day two (22nd March) will delve into the global market, featuring possible speakers from Spotify, Dell, Symantec, Google, Twitter, Facebook, and Mashable.
Last year, the festival saw just over 300 attendees in total, with more than 25 percent of guests from outside of Iceland, including the UK, Norway, Sweden, U.S, Germany, Russia, Iran, and more.
The 2012 event featured expert speakers, including Eli Pariser, The Filter Bubble; Bill Hunt, Back Azimuth; Ben Chapman, BBC; Charles Dowd, Facebook; Brent D. Payne, Tribune/BaldSEO; Motoko Hunt, Adobe; Phil Greenwood, Microsoft; and Matt Neal, Bright Sparx. The 2012 event was opened by the President of Iceland, Mr. Olafur Ragnar Grímsson.
The Reykjavik Internet Marketing Conference (RIMC) is an essential networking tool for marketing and advertising people, web editors, sales and marketing managers, as well as directors of small and large businesses. The conference is also ideal for anyone who is interested in business on the Internet.
Some quotes from those attending or speaking at RIMC over the past years:
"Just WOW… Reykjavik Internet Marketing Conference #RIMC12"
Peter Handley – Director of SEO at theMediaFlow
"Reykjavik Internet Marketing Conference: An Extraordinary Experience"
Rand Fiskin – SEOMoz
"I loved the atmosphere, mood and networking at RIMC"
Massimo Burgio – Global Interactive
"Iceland is so beautiful and so different from anything else I have seen and experienced"
Mikkel DeMib – DeMib.com
For more information about the Reykjavik Internet Marketing Conference, visit www.rimc.is/en.
For up-to-date RIMC announcements, follow http://twitter.com/optimizeyourweb – The RIMC 2013 hash tag will be #RIMC13.